AN AWARD-WINNING SCREENWRITER AND PLAYWRIGHT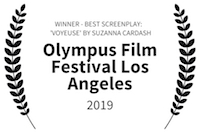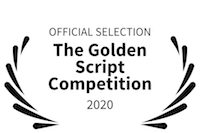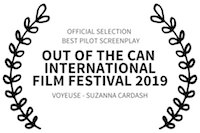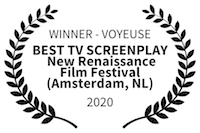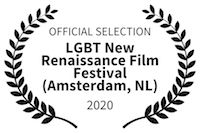 At eight years old, I started adapting books into plays and, after university (BA Hons: Theology and Philosophy), worked as an actor/writer, often devising scripts as well as performing. Then I did a stint of playwriting at the Tricycle Theatre in London, tutored by award-winning playwright Bonnie Greer.
I have a Master's in Scriptwriting for films, TV, stage and radio, from Bath Spa University, so if you want me to write a bespoke script for you, you'll be in safe hands. I also set up networking group Scriptwriters & Co in 2019, to unite writers and affiliates across the performing arts. We now have around four thousand members from all over the world.
In the last few years, I've penned a witty yet tear-jerking full-length tragicomedy for the stage, several short film scripts and a stylish psychological thriller that's so far won five awards at international film festivals; an award-winning TV drama series pilot; and a dystopian drama/thriller.
Why not let me create a beautifully, crafted professional script or screenplay for your company? Alternatively, I can lick your own script into shape. And if you're a producer or director, I'd love to talk. My agent is Joan Lane at Wild Thyme Productions Ltd.
Screenplays include:
HONEYLOVE - Killing Me Softly (TV pilot - drama/comedy): By day, Honeylove employees sell sex toys to help people 'come together'. By night, they struggle to manage relationships as their home lives fall apart. This potential series, funny and tragic in equal measure, intertwines the lives of eight colleagues, from 17-65, in different households.
VOYEUSE (TV pilot/feature - psychological relationship drama): After a vulnerable teenage girl falls for a beautiful but narcissistic movie director, she finds herself the unwitting star of an intimate and incriminating film. WINNER: Best Pilot Screenwriting category at the Olympus Film Festival in LA in 2019; Best TV Series Pilot Screenplay at the Amsterdam New Renaissance Film Festival in 2020; FINALIST: The Golden Script Competition; Hollywood Just For Shorts Festival; Out Of The Can International Film Festival.
SEAHORSE (feature) - In 2211, when females rule and males are forced to gestate all foetuses, an illegally pregnant woman fights to restore balance. But first she must evade her law-keeper husband, ordered to execute her and her unborn child.
BRAINBOX (short film in development): What do you do when your child no longer fits in? When their 12-year-old starts behaving disruptively, loving parents are forced to make a decision about her future.
DON'T COME HOME (short lockdown film): Separated three days from one another, a sick woman needs her partner more than ever. She can't let him come home until he's done what he has to do.

KAORI (short film - drama): When his stunning but arrogant wife is unfaithful again, a loving husband takes the ultimate revenge. East meets West in this psychological game played by an Italian man and his arrogant Japanese wife.
ONLY THOU (short film - gentle examination of memories and grief): An elderly man reminisces with his wife about their relationship through the decades, and the promise that she broke. Why did she heartlessly leave him?
HOOKED (short film - relationship comedy with a twist): A young couple are in bed after sex, and the eavesdropping woman downstairs is equally satisfied. Why is she so interested, and what's in it for her?
Plays include:
CAGED BIRD (partly immersive, gender-neutral full-length play for 6-10 actors): A morally upright middle-aged woman unexpectedly finds herself online dating after her husband develops MS. LONGLISTED: BBC Writers Room Drama category and Papatango contest, both 2019.
SPROUTS (theatre or radio play for older children and adults, currently being developed into a musical): When fellow citizens mock him for growing vegetables on his head instead of hair, a young boy takes literally gut-wrenching revenge. A dark, nasty but amusing drama and potential musical, in strictly metered rhyming verse.

SHORT AND CURLIES (15-minute play): Auditioning actresses allow themselves to be sexually assaulted in plain sight, to prove themselves to a male director. Based on a real experience, well before #MeToo.