AN AWARD-WINNING SCREENWRITER AND PLAYWRIGHT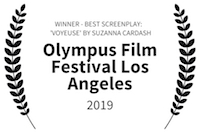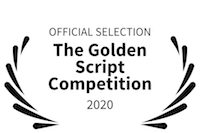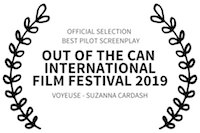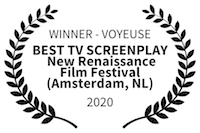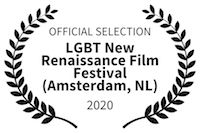 I need to add more laurels to this page! I've now placed in more for my dystopian feature, 'Seahorse', including as a 2nd rounder in the Austin Film Festival and a Top 50 Finalist in the ISA Fast Track Fellowship. That said, I rarely enter contests these days. I'm too busy running my own.
I set up networking group Scriptwriters & Co in 2019, to unite writers and affiliates across the performing arts. We now have thousands of members from all over the world and run an international scriptwriting festival.
Some history. At eight, I started adapting books into plays and, after university (BA Hons: Theology and Philosophy), worked as an actor/writer, often devising scripts as well as performing. Then I did a stint of playwriting at the Tricycle Theatre in London, tutored by award-winning playwright Bonnie Greer. Now I have a Master's in Scriptwriting for Screen, Stage and Audio, so if you want me to write a beautifully, crafted professional script for you, you'll be in safe hands. Alternatively, I can provide notes, or lick your own script into shape.
And if you're a producer or director, I'd love to talk. My agent is Joan Lane at Wild Thyme Productions Ltd.

MY SCRIPTS:
SEAHORSE: Dystopian drama feature. Comps: The Handmaid's Tale; Children of Men; Brave New World. In 2111, an illegally pregnant woman fights to restore natural balance in a world where females govern and males must gestate all foetuses. But first she must evade her law-keeper husband, ordered to execute her and her unborn child.
VOYEUSE: 1-hour psychological drama/thriller TV pilot for a 3-part series, with potential for a feature. Comps: Russian Doll; Fleabag. Despite discovering she's the star of an incriminating sex film, a vulnerable teenager vows to save her charismatic film director lover after she reveals her psychopathic desire to take a stranger's life - then her own.
HONEYLOVE: 1-hour drama/comedy TV pilot. Comps: Cold Feet; Catastrophe; The Office. Series logline: By day, Honeylove employees sell sex toys to help customers 'come together'. By night, they struggle to manage relationships as their home lives fall apart.
BRAINBOX: Short film script. When their smart, sassy 12-year-old starts behaving disruptively, her loving parents decide she's reached her use-by date.
DON'T COME HOME: Short screenplay for Zoom: A sick woman is perplexed when her loving partner disappears on a mystery mission without telling her where he is, what he's doing or when he'll return, communicating only on via his computer screen. 
KAORI: Short drama screenplay - drama: East meets West when a cuckolded Italian husband plays the ultimate psychological game after his arrogant Japanese wife is unfaithful yet again.
LIGHT OF THE SILVERY: Short screenplay: An elderly man reminisces with his wife about their relationship through the decades, and the promise that she broke. 
HOOKED: (short film - comedy): When a young couple have sex, the eavesdropping older woman downstairs is equally satisfied.
Plays:
CAGED BIRD Full-length immersive drama playthat I'm adapting into a novel. Comps: Duet for One; Passion Play; Sex in the City. A virtuous middle-aged woman turns to illicit online dating after her much-loved husband develops MS and becomes abusive and impotent.
SPROUTS Nasty theatre/radio play à la Dr Zeuss/Tim Burton, in dark, metered verse. Currently in development as a stage musical, in collaboration with Matthew Laughlan, Musical Director of Les Miserables in London's West End; would also work as animation. A vulnerable teenage boy takes gut-wrenching revenge after fellow citizens mock him for growing vegetables on his head instead of hair. 
SHORT AND CURLIES Short play based on a real experience, well before #MeToo): A female actor rebels when a male producer sexually assaults actresses in plain sight at an audition.